Well there won't be much posting of new work here for awhile since I am moving to South Korea in a couple of months. I am working on selling the stock I currently have. I don't know what next year will hold for me as far as pottery is concerned. I won't be able to bring my studio or anything like that so it will probably be a year long sabbatical for me. **sad sigh**
South Korea is fertile ground for potters, at least that is what I gather, so I plan to soak in as much as I can. It will be exciting when I finally do get back to my work what kind of influences will spill over.
I will probably use this blog space to share my Korean experiences as they relate to all things ceramic.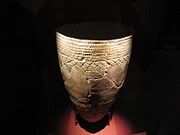 This is a neolithic pot from Korea: wikipedia.org