Monday, November 19, 2007
Here are more wall hangings. I am having a lot of fun making them.
Posted by

LadyShuttleMaker aka MadMadPotter
at 1:37 PM
No comments:

Tuesday, November 13, 2007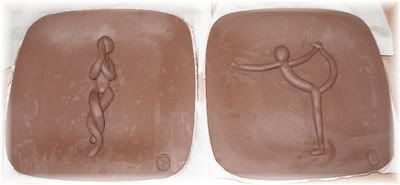 Yay, I am sooooooo happy to be back in the studio, letting the clay direct itself with only a little bit of gentle motivation from my hands.
I am working on a new series called "Yoga People".
These are two of my favorite poses. Eagle pose and standing bow pose.
I am hoping to do a whole series of these wall hanging sculptures.
I have enjoyed yoga off and on for the last few years but only recently have I "kicked it up a notch" and joined a Bikram Yoga studio. Hot Yoga is the hardest physical work I have ever done in my life but it has resulted in undisputable changes in my body. Whoo hoo! It also helps a great deal in alleviating my severe depression.
I've been hearing whispers on the wind that yoga has been getting some bad press lately. RUBBISH I say! The only people I have known to knock it are those that have never tried it. And finally, yoga is not a religion and has no effect on my own personal religious beliefs....I feel that there is still a lot of ignorance that surrounds this practice.
Anyhow, Yay for clay and Yay for feeling good about one's self.
Posted by

LadyShuttleMaker aka MadMadPotter
at 8:07 AM
3 comments: