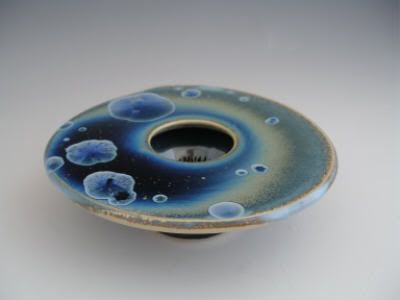 Work by
Dwight Crossley
I was delighted to come across my crystalline friend's booth at the Boise Art in the Park festival this weekend. I was familiar with his work and had corresponded with him on crystalline related matters before but I had never met him in person until this past weekend.
His crystals are gorgeous as you can see by this piece that I could not resist buying.
We talked a lot about crystals which was heaven for me since all my crystalline friends are via the internet. It is nice to get an immediate response to your questions for a change. Anyhow, he tried to talk me into switching to the higher cones. And trust me, he is not my first crystalline friend to try and sway me from my stubborn path.
I started out in cone 10 crystals with the idea from the very beginning that I would pioneer in cone 5. I have been working in cone 5 with moderate success for the last two years. Well.....after seeing these beauties I may just throw in the towel and jump in the high fire pool with all my other crystalline friends.