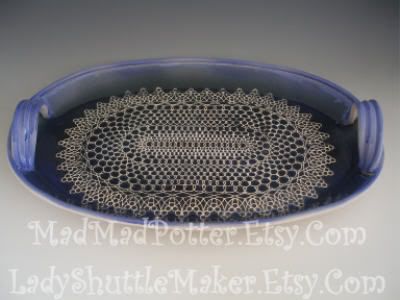 This still has one more firing to go. This is a very large piece. I call them my "Turkey Platters", because you could fit a turkey on this baby. I can also see it used for serving a large variety of baked goods for a social function...maybe some bannana bread, brownies, cookies, what have you.
Hmmmm, I must be hungry.
I decided to show a picture of it half done because it might not survive the next firing. These platters are very difficult to do. I lose about 50% of them. Not very good odds. The losses are very expensive. I got so frustrated with these last year that I quit making them for awhile....but here I go again. If I am not anything I am persistent.